We all know that the purchasing of Betting Systems can be a very daunting prospect, especially when someone is claiming that they can make you risk, but all you need to do is pay them a load of money up front!
If you are sceptical about anything offering to do that, you're quite right to be so.
Although Profit Maximiser comes with a 30 day no questions asked guarantee (our Profit Maximiser Review has more details), likewise, that is no real consolation if you don't really trust the guarantee. This is where the new Profit Maximiser offer, of 14 days access for just £1.00 + Vat, is a real game changer.
Try Profit Maximiser For Just £1.00 For 14 Days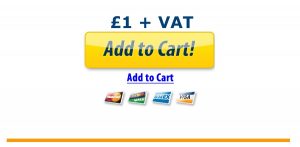 Profit Maximiser isn't gambling, there is no staking plans involved, no betting strategies that risks your money, and there is no real risk involved. Although one of the sections involves placing bets, there is no waiting on a Premier League fourfold to win, or a horse to win.
The placing bets part of the Profit Maximiser strategy is simply arbitrage / matched betting, meaning no money is at risk.
Purchase 14 Days of Profit Maximiser for just £1.00 + Vat Here
Using this purchasing method, you simply buy 14 days up front for £1.00 + Vat (a total of £1.20). This totally eradicates any worry of forking out big money (Profit Maximiser costs £97.00 + Vat) up front, as surely anybody can afford to risk a pound.
I would personally be a bit sceptical about buying a betting system for over a hundred quid, but I would be well prepared to risk a pound. It's a no brainer really.
This offer also gives you the opportunity to see exactly what's on offer with Profit Maximiser. You will get 14 days to view the product, see all the offers already pre loaded for you, there is over 100 in total, including bookmakers, casinos, spread betting offers, and bingo sign up offers.
You will also have the chance to try and make the full subscription money inside the 14 days. If you don't totally achieve it, you will make the best part of it, and see how easy it is too make the whole amount (you can do it easily within a month).
By the end of the 14 days, if you decide you no longer want Profit Maximiser, you will have to cancel your order to avoid being charged the remaining £96.00 + Vat, to complete the purchase (on or after the 14th day). If you decide to keep it, you simply do nothing, and you will be charged the remaining £96.00 + Vat.
The worst case scenario here, is that it will cost you £1.20, which is non refundable, which I'm sure we can all afford to take a chance with.